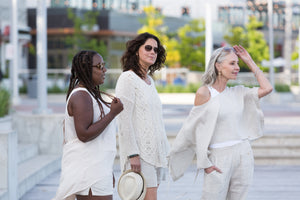 Welcome to Token of Virtue, your Luxury Lifestyle Apparel Company.
Token of Virtue uses superior quality bamboo fabrics ranging from 190g to 360g to provide a beautiful weight and flow that creates a wonderfully smooth silhouette.
Recently we have added 100% Organic Linen for the perfect blend of luxury and comfort to our designs.
Our Collections are made in batches and will only be offered until each item is sold out. We will not reproduce our collections so if you see it now, it may not be available at a later date.
You will discover that each item in our collections have an inspirational message relevant to the the collection virtue located in various places on the pieces. You will also find a gold "token" hand stitched near the left hip to serve as a reminder of the virtue you are embodying.
It is our pleasure to provide you will elegant comfort that will bring meaning to your every day.
Embody. Live. Be.